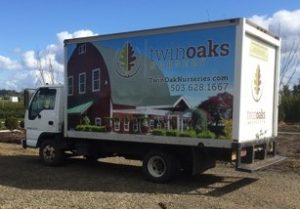 Twin Oaks is primarily a Wholesale Nursery. We specialize in ornamental shrubs, conifers, ornamental grasses, native plants, groundcovers, and select deciduous trees. We also have an extensive B&B selection for those clients who want an "instant yard".
We can provide you with all varieties of plant material from liners, and containers to field grown nursery stock. All materials are inspected for quality, size and grade before being loaded onto your truck.                                                                              
We are also happy to have you send your clients in to make custom selections from our Retail "showroom" that you can later pick up when you are ready to plant. This can be a great time saver for you if you have a client who is very discriminating and is looking for the perfect specimen. The client will see our retail pricing but you (the landscaper) pay your discounted price.
We provide fast and friendly service to meet your high-quality standards and deadlines. We are conveniently located in Hillsboro, Oregon on River Road.
Personal touch and friendly atmosphere
If we don't have it, we can source it for you.
Convent location
Send your customers for our showroom to select their favorites, saving you time and ensuring 100% satisfaction. You can then elect to share your volume discount and/or incorporate into your project pricing as desired.