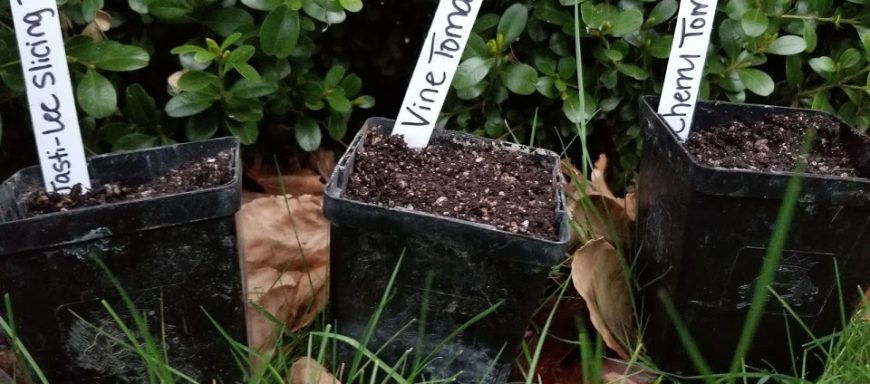 How to Grow Tomato Plants from Tomato Slices-Part 1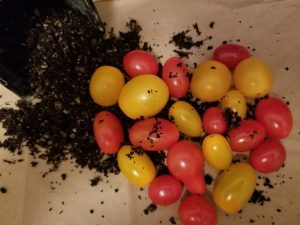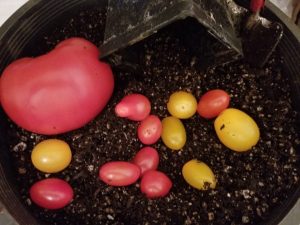 Who is getting ready to start a Garden this Spring? I know I can speak for myself when I say is it Spring already! This February, I decided to do an experiment with Tomato Slices. I had three different tomatoes in my fridge to experiment with. The three different tomatoes were Tasti-Lee Tomato, Vine Tomato and Cherry Tomatoes.
Slice Tomatoes for your sandwiches, toss them in salads, cook them into sauces or squeeze them for juice. Tomatoes are delicious and good for use. They are packed with Vitamin A and C, Calcium, Potassium, and Lycopene.
You are probably at the point of asking yourself – What are you going to be doing with the tomato slices? No, I am not going to make Salsa or delicious salad.  I am going to teach you how to start a tomato plant from tomato slices. I know I love tomatoes and use them in my everyday cooking.
One of the first thing I ever learned how to do is how to grow is tomatoes. Just the other day, discovered what I believe to be the easiest way to grow tomatoes. Turn the overripe tomatoes in your fridge into seedlings and grow entirely new tomatoes in just a handful of day.
Planting tomatoes must be done at a specific time of year for the best results. Tomatoes love the sun. Tomatoes grow the strongest in Late Spring and Summer. If you are starting your tomato slices indoors, plan to do this 6 – 8 weeks before you expected transplant date.
What you will need before planting tomato slices:
One to Three Types of Tomatoes – I choose Tasti – Lee, Vine and Cherry Tomatoes
Knife
Cutting Board
Potting Soil and/or Compost
Pots ( Plastic, Clay or Etc.)
H2O
Sun
Labels to Mark What Type of Tomato Plants
First, cut a tomato one quarter – inch thick slice. Fill the pot with soil or compost half full. Throw the slices onto a pot of compost. Then throw potting soil and/or compost over the slices of tomatoes until they're barely covered. Water the pot sporadically – I choose to water every 2 -3 days depending on the soil. Put in a window for sun exposure or outdoors on a nice day. Make sure to bring in the pot before the temperature drops below 50 Degrees. The soil needs to be at 50 Degrees is what is ideal for planting.  In 7 – 14 days you end up with tomato seedlings. Just back in a couple weeks for Part 2.